Business subscriptions: How to get them under control
Business subscriptions should make life easier, right? It means you never run out of teabags or those reception magazines that nobody reads. And increasingly it means that your team's software needs are met with a minimum of fuss and upfront cost.
More and more employees need a wide range of tech to work effectively, whether that's basic communication systems or job-specific tools. It's so easy to sign up for most Software as a Service (SaaS) tools, that people can change regularly. It's empowering for bosses and workers, as productivity goes up and a spirit of innovation is fostered.
But for financial teams, it can be a lot less fun.
With spend on business subscriptions spread across countless individuals, it's becoming harder to maintain oversight of where company money is going.
Exactly who's signed up for which tool and how much it costs the company is difficult to monitor. 71% of companies have at least one SaaS subscription with no billing owner, according to a study.
Uh oh.
How much are your business subscriptions costing you?
In traditional workplaces, the IT department has full ownership over any new software that's introduced. This centralised approach means that adopting a new tool can be long, tedious and not-at-all transparent.
In more modern companies, people are embracing SaaS subscriptions.
New research shows that — across companies of all sizes — business spending on subscription services is likely to continue to grow. Recent figures suggest 30% annual growth in enterprise SaaS spending in the UK.
As of 2018, the average spend on subscription services per company reached $343,000 (around £274,000) in the US. That averages out to just under $2,900 (£2320) per employee, per year, spent solely on subscription services.
Depending on the job they do, employees might be using dozens of different SaaS tools to work effectively. Remote working is likely to see this increase even further.
But with new business subscriptions being adopted daily, things can easily spiral out of control.
And that's just the subs that are maintained.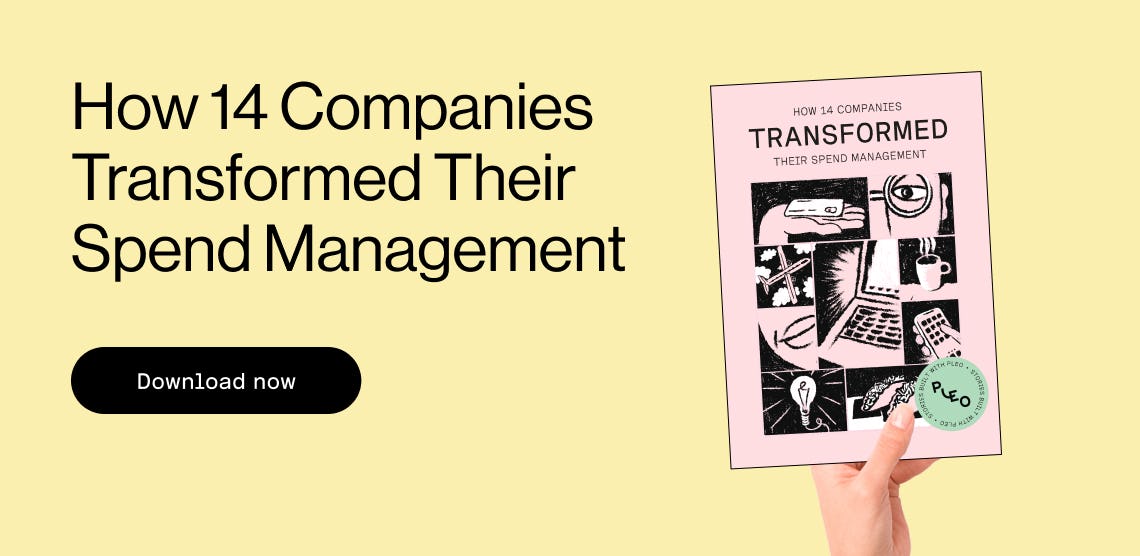 Rogue subscriptions cause real problems
Other subscriptions exist in a no man's land after the original owner leaves a company. Be honest: how many times have you discovered a former employee's name still registered as the owner of a subscription? Somebody's paying for that subscription – but who? How much is it costing the company every month?
Oh and it gets worse. If your SaaS spend has gotten out of control, your enterprise valuation (EBITDA) will be affected. An inflated Saas spend that's bloating your operating costs will impact how potential buyers see your business.
So the pressure's on financial managers and CFOs to manage these growing costs in the right way.
One answer? Automate company spending
One of the best ways to manage the rising number of subscription-based services is through an automated spending solution such as Pleo.
We unify your entire expense process, making the whole thing faster, easier and more transparent.
Introducing our Subscriptions Overview
We're hard at work on a Subscriptions Overview, that will pull together all of your team's recurring payments in one place.
It'll empower your people to sign up for the tools they need, while admins get a full overview of every subscription. No more duplicate sign-ups that needlessly lose you money every month, or subscriptions that you still pay for – even though nobody uses them.
We really hope this helps Pleo users to save money and feel like they've got a grip on their subscription spending, across all teams. a
This feature is in Beta testing right now, so if you'd like to help us try it out, contact our product manager Miia.
The other ways Pleo makes subscriptions easier to manage
Here's how switching to an automated spending solution can help you make sense of all those sign-ups and SaaS payments.
Easy-to-manage payment cards for employees
The primary benefit that an automated expensing solution provides for business subscription management is company cards. These cards can be pre-loaded and set with custom spending limits before being given to your employees. That gives you full oversight of who is signing up to subscriptions and how much for.
This empowers your staff to make purchases without ever needing to be reimbursed. It also keeps your financial team in control of your business spending. And if someone leaves the organisation, your finance team will be able to seamlessly end or reallocate their payments.
Real-time financial overview
The wasted spend on "forgotten" subscriptions can be tackled with more real-time monitoring of business spend, something Pleo offers from your first use.
This will not only make it easier for you to forecast spend, but also to make strategic decisions on the best way to spend your company's money when it comes to SaaS.
Invoice matching and account integrations
Every finance manager knows just how painful and time-consuming it can be to match invoices to company card payments. With an automated solution such as Pleo, categorisation and spend matching occurs automatically as your employees pay.
Everything is then connected seamlessly with your accounting software – so no more repetitive manual reconciliation.
Subscriptions are changing the way businesses run — the time is probably right to get on top of how you pay for them.