Bricks?! How we do employee onboarding
Let's cut to the chase: Why is our employee onboarding programme called Bricks? Actually, there are two good reasons why.
Each day, we add a little bit extra on top of the foundations that were put in place by our two co-founders.
The other inspiration for Bricks?
Well, our first investment came from the LEGO family's office and they've been behind us ever since.
What do you get when you match the world's favourite kid's toy with truly inspiring colleagues? Pleo Bricks, of course!
Bricks … say what now?
Every Pleo hire – be they full-time, part-time, student worker or full-time remote worker – starts as a Brick. They are a Brick from their first official day to their 90th, after which they become a fully-fledged Pleo'er.
If you're a People Ops person or even a would-be Pleo Brick yourself, read on as we walk you through what's involved with getting our new hires up to speed.
Our aim
Simply put, we want to set every new Pleo employee off to the best start possible when they join us. This is after what is, admittedly, a pretty considered hiring set-up.
With the essentials down, we match the onboarding with a discussion around personal and professional growth.
Talking about the two hand-in-hand give new hires the best chance to succeed and develop themselves here (and build the company as they do).
And the really exciting bit
Each Brick is issued their own Pleo card so they can get firsthand experience of the product that's at the heart of everything we do.
So cool that we call it an "aha moment" – and when you experience your first one, you'll know why.
And we make sure remote starters aren't left out. Trust is at the core of our values, so before Bricks begins, we'll get a Pleo card sent to you so you can experience that aha moment too – wherever you are.
As you know, it will take a bit of time before our actions have an impact.
We need to invest in you – our new hires – and make sure that you're looked after on all fronts, to make you the best Brick that you can be.
Employee onboarding programme – tips and tricks
Of course, each company's onboarding needs to be tailored to their values and mission.
Bricks is working for us, but the best solution for your team might look a little different. Whatever shape it takes, here are some things that have inspired us along the way.
Invest early, or it might cost you
Hiring people, as we all know, is expensive. So is keeping them.
Studies show that 69% of employees are more likely to stay with a company for three years if they experienced great onboarding.
Bringing everyone together breaks down silos
The word that most of us fear: silos.
The flip side here is that when conflicts arise, or when you're trying to work together across silos, it becomes more challenging if you don't have any knowledge or understanding of one another – or what they do.
By having a company-wide onboarding programme, everybody new starts together. Branding mixes with finance, who swap stories with Sales and senior management.
This can play a big part in collaboration in the future. Aside from that, it just creates a great culture, and you're lucky enough to meet a variety of different people.
Not all onboarding is created equally
Onboarding can vary from team-to-team.
What we have had great feedback on is that everyone gets the same Pleo-knowledge as a foundation. This makes it easier for what comes next: team-specific onboarding.
By setting up a clean structure on how people join the company, it is easier to replicate this in your team setting – and set people up for success in their role.
No one is left out
It's quite easy to hire a new student worker that only comes in a couple days a week, and forget to invest in a thorough onboarding for them.
This is also crucial for morale, and to make sure that your new starter feels welcomed.
Energy is contagious
For us, we've found that there is great motivation and energy when a group of people have first-day feelings together.
This also brings such positive energy across the company, and the feeling at HQ in moments like this is special.
It'll save you time
Lastly, company-wide onboarding saves you time.
The intros are plug and play, the presentations are ready, and the calendar invites are sent. This way, anyone in the company can participate with minimal effort invested.
Take our senior C-level leaders, for example. We deal with 10-20 new hires a month that go through our Bricks programme.
Each Brick gets quality 1:1 time with one of the handful of people shaping the company's future. That can often include our CEO, Jeppe, who makes sure that he has 10-15 minutes to spend with a 1:1 on each new hire (depending on the group size).
Employee onboarding for the win
Building this programme took effort, it required iterations, and it's still not perfect.
But the output we've seen far outweighs the input that we've had to put in. We send out a survey after each Bricks Programme to see how they felt the programme went. Our latest score was 9.5/10, and we've had great feedback.
Interested in building smart workplaces? Us too! That's why we wrote an eBook on that very subject. Check it out below. 👇
Good Work: Build A Company People Love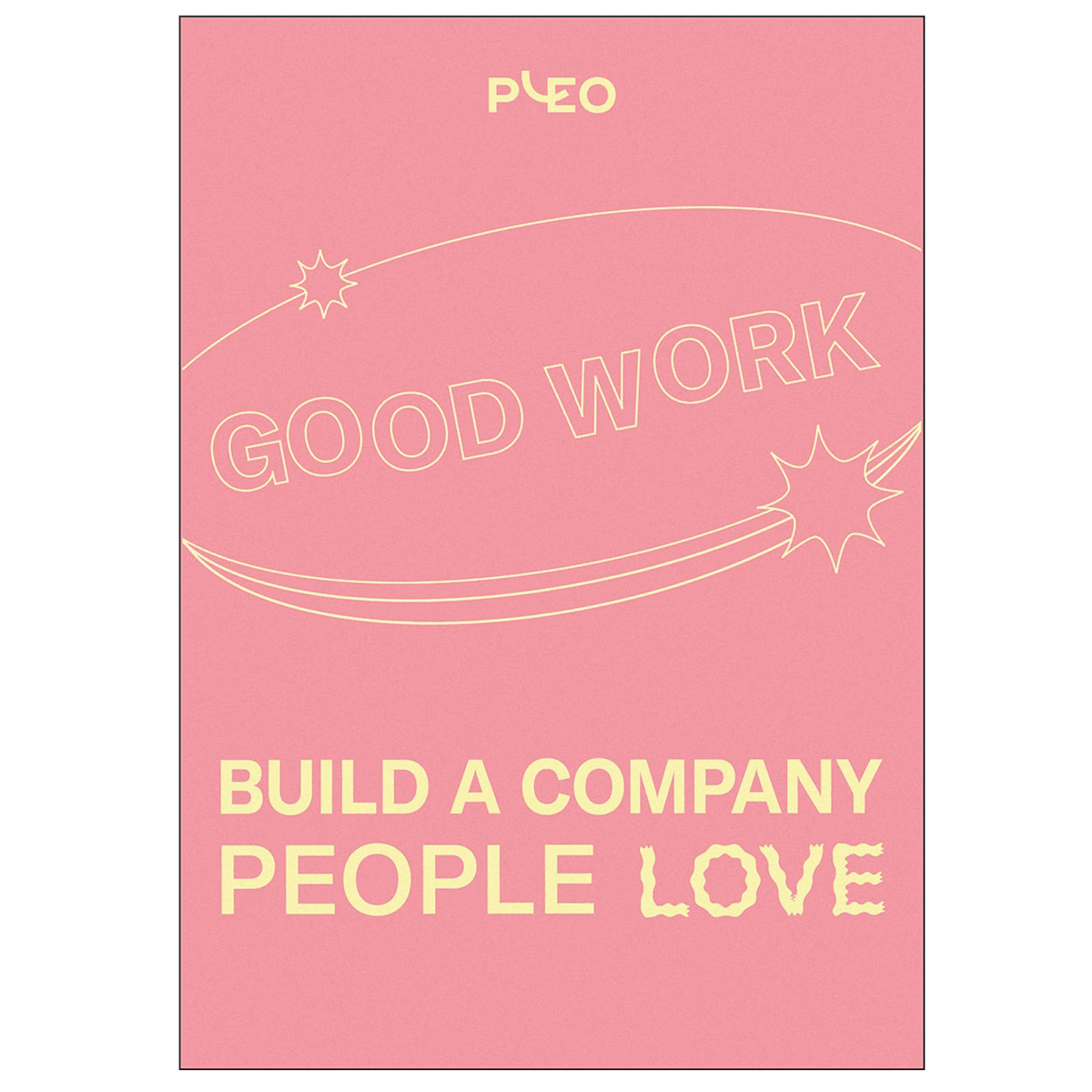 You might enjoy...
One of the biggest ways to have a positive impact on the planet is to travel more sustainably. But how?

---

We spoke to Emil Steenhouwer, CFO & Head of Strategy at Nornorm, about how Pleo has supported the company when it comes to managing expenses...

---

How leaders can ensure they're looking after the mental health of their teams.

---