Why we're letting Pleo'ers choose their own benefits
Happy employees are more productive and perform better. No major news there. But what makes a happy employee? With five generations in the workplace, there's no single answer. Everyone's got their own needs to be met. Some have student debt or kids to care for; some are hell-bent on travelling as much of the world as possible; some love to keep fit; and some want some much needed me time. There's no one-size fits all solution. 
When our People team sat down to give our benefits package a reboot, they faced this question head-on. Choosing for their fellow teammates and colleagues felt wrong. There had to be a way to make benefits work for everyone.
How could Pleo offer every employee what matters to them most as individuals?
Introducing Pleo's Flex Benefits
We caught up with three of the leading ladies behind Flex Benefits at Pleo to find out more. Hear from Jessie Danyi, Head of People; Hannah Randera, People Operations Manager; and Katha Gebel, People Operations Specialist.
How do Flex Benefits work at Pleo?
"Pleo is all about putting the power into employees' hands. That's how we work as a company. It's our product vision. We wholeheartedly believe that everyone, as experts in their specific roles, should have complete freedom to make the best decision for the company when it comes to company spending." Jessie explains, "Our Flex Benefits programme takes that premise and gives our employees the power to choose the benefits that are most valuable to them."
For employees, it couldn't be simpler. 
There are some fundamental benefits everyone gets, including lunch, healthcare, 25 days holiday and parental leave (24 weeks for the primary caregiver and 8 weeks for a secondary caregiver fully paid).
On top of that, everyone has 2,500 euros (or their local currency equivalent) to spend on whatever matters to them most, including buying extra annual leave. And, it's all enabled by their Pleo cards!
Take a look at how you could spend yours here.
Is there anything you can't use your Flex Benefits budget on?
"This was a bit of a process for us. We started with a list of things Pleo'ers could spend their Flex Benefits budget on and things they couldn't. But as we went through the process nearly everything moved over to the yes column," says Jessie.
"We realised we had the Pleo card, designed specifically to give employees the power to pay for things at work, so we didn't need to create parameters." Hannah adds, "I got a bit scared when I realised I could use my Pleo card for anything. I wanted some guidance on what was okay. We decided to give everyone complete flexibility but to define a couple of things out of touch with our values that the budget couldn't be spent on." 
That's no gambling, alcohol, drugs or strippers!
Are Flex Benefits as easy to manage as they are to use?
Short answer: No, but it's worth it.
"It's much more work. Time, resources, communication, cost. There's a lot of complexity involved. Tax is a nightmare," says Hannah.
"This wasn't designed for a leader or to optimise for cost; it was designed as employee first, admin second. Our goal was seeing employees loving it and being really excited about it," adds Jessie.
"The benefit for Pleo is that people can spend their benefits on things that matter to them. They can take the extra day of holiday and come back feeling happier," Katha chimes in.
What have people been using their Flex Benefits on?
"Not as many people bought holidays as I expected," says Hannah. 
"People either have zero or ten days," Katha adds. "It's rarely two days. And I think that shows exactly how Flex Benefits work. If someone really wants something, they can get it, and they'll really get it. Because that's what matters to them most."
"We see a lot of charity donations and events. One office decided to put a small percentage of their Flex Benefits together to support a local charity that provides lunch for those who can't afford it. It was really nice to see how they'd all come together like that."
"There's a lot of hobbyists. Someone has used part of their Flex Benefits to get extra days off and then the rest to pay for a climbing course in France they'll attend on those days."
"After the last couple of years, many Pleo'ers haven't seen their families in quite a while and are flying them over or going out to see them."
"We've also had people ask about tattoos, laser eye surgery, haircuts, puppies, cleaners, all sorts of things."
What makes you happiest about Flex Benefits?
"The freedom. I love the freedom I have to actually choose and do things that are good for me, as Katha." 
"I feel really proud of it", adds Hannah. "It's tough work some days; there's a lot of admin. Then I chat with my friends about it and they're all amazed! They don't have anything like this. It's great being part of something forward-thinking and sharing what we've learned. It makes me really happy."
Whether you're a budding pianist, a parent in need of some extra TLC, a wannabe digital nomad, or a cycling enthusiast, our benefits can work for you if you work for us. Check out our open roles on our careers page.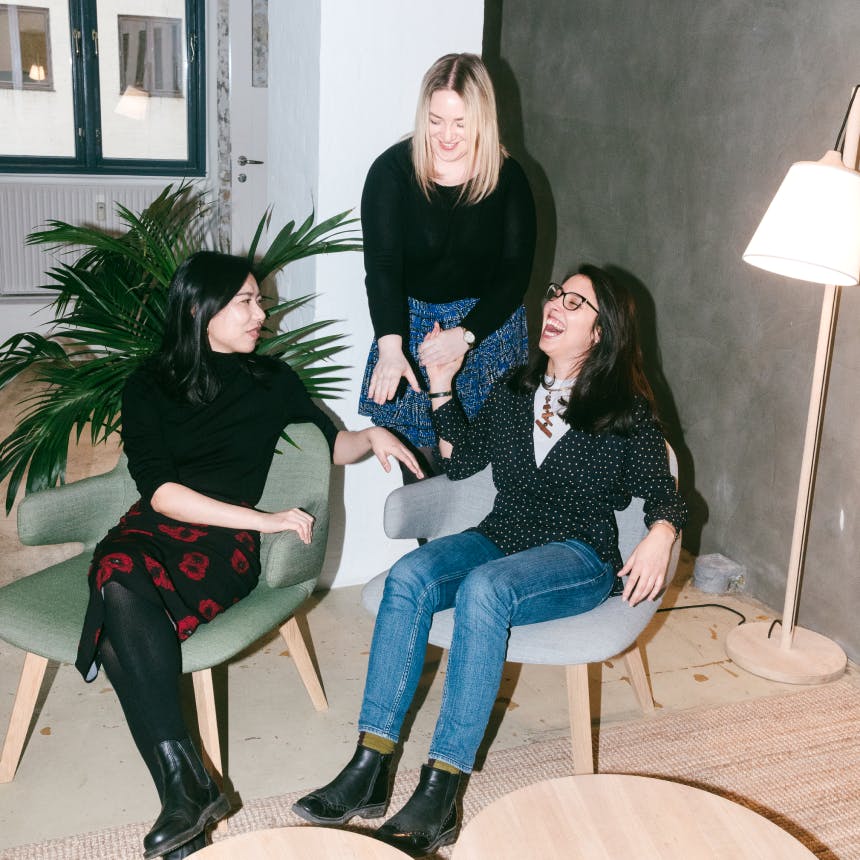 Want to know more about working at Pleo?
Learn more about how we hire, and the magical teams that make Pleo what it is today.
Take a peek under the covers
You might enjoy...
We've decided our impact vision should focus on making all the exceptional talent out there feel like they truly belong at work.

---

What's a Pleo Team Camp? They're key to keeping the whole company aligned on our overall strategic direction and a whole lot more ...

---

Onboarding is serious business at Pleo. We want to set every new Pleo employee off to the best start possible when they join us.

---