How True Gum cleaned up its expense management with Pleo
Did you know most chewing gum out there contains plastic? Yes. That's right. The same material used in the production of glue, plastic bags, tires, and bottles is what makes your chewing gum, well, chewy. 
But one company working to make chewing gum a kinder alternative for you and the planet is True Gum. Using only plant-based ingredients, the True Gum is a fresh and more responsible take on chewing gum, alongside being free from aspartame (and not to mention tasty!). Instead of plastic, True Gum uses sap from a tree found in South America. 
We caught up with Frederik Kirkeby Beth, Head of Operations at True Gum, to find out how Pleo has helped clean up their expense management as they clean up the chewing gum industry. 
The challenges
Too much time was spent searching for receipts and documents

The team borrowing the company card

And sometimes even paying out-of-pocket 
The results
They've waved goodbye to missing receipts completely 

All expenses are centralised 

And everyone on the team has an individual spending limit

True Gum's team was up and running with Pleo in less than a week
Can you tell us a little bit about what True Gum does?
True Gum is chewing gum without the plastic. Founded back in 2017 by four friends, today, the team is now 35 people strong. After nearly 500 prototypes of natural chewing gum (that were originally cooked up in the co-founder's home kitchens), True Gum achieved a tasty, 100% plastic-free chewing gum.
We've secured ourselves as a global leader within the sustainable chewing gum category
Can you describe your role?
As Head of Operations and formerly working as part of the finance team, I keep in contact with our bookkeepers and, before Pleo, would have to chase documents and receipts from every member of the True Gum team who had forgotten to send over their receipts in time. 
Another part of my responsibilities is minimising the company costs overall, which is exactly where Pleo comes in. I have a full overview of who on each team is spending the most money, and what they're spending that money on. 
What Pleo features do you and your team use? And do you have a favourite?
For us, the feature that we rely on most is the notifications the team receives on their phone immediately after making a purchase. It makes it much easier for me to keep track of everything at the end of every month. 
Because of this, the finance team doesn't have to waste time chasing receipts of other pieces of documents. 
We also use spending limits. It's a great way of making sure that we're not overspending every month. With this control feature, we're able to ask more questions about the purchase and see if it's necessary. 
Want to join True Gum and turn your expense hell into expense heaven? Sign up today.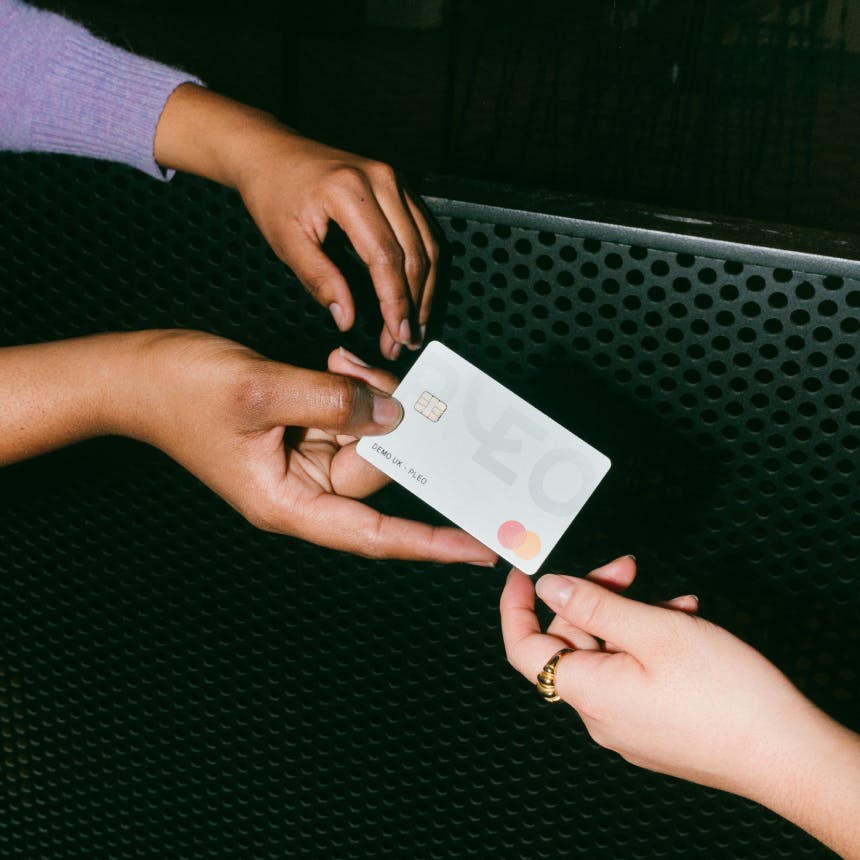 Smart cards for forward-thinking businesses
Trust your team with the tools they need to work (and spend) smarter.
Book a demo
Powered in the UK by B4B partnership, available soon
You might enjoy...
We sat down with Johnny Bray, CFO at Vistair, to talk about the importance of the evolving CFO and how he and his team have modernised Vista...

---

The conversation around harnessing technology in the workplace started as a buzzword and has now become crucial for all businesses to implem...

---

We're excited to launch the first edition of Pleo's Quarterly spending report. This time focusing on how businesses across Europe are priori...

---