What the connected consumer expects from fintechs
Financial services going digital has been a long time coming, both for businesses and consumers.  
This digital transformation was already in the works before the pandemic, but social distancing guidelines made it very clear that financial services needed to recognise that customer expectations and needs have rapidly changed – the services offered need to be just as customer-focused as the hospitality industry. 
But the obvious catch is that banks and more traditional financial services will be seeing their customers face-to-face less and less due to increased digitally-led lives.
With the rise of the connected consumer – the individual who is used to digital channels, adopting new technologies daily and is in constant connection with other consumers – the draw of the neighborhood bank is dwindling. 
What does the connected consumer want from the finance sector?
People used to base their choice of bank on what was down the street – people today will search for the bank or financial solution best suited to all their wants and needs. Can they apply for a new credit card, get an understanding of their spending habits and keep track of Reward points all from the same platform?
And it makes sense. Why take time out of your day to visit a bank to discuss buying a house when there are apps to guide you through the entire process? From house searching to mortgage applications.
Many banks are already closing down local branches, and investing more and more into digital alternatives. 
In the UK, HSBC is closing branches after seeing that consumers are turning to digital channels instead, even offering face-to-face services via video link to those who still want human interaction when making financial decisions. 
Now, people want financial products that are – brace yourself, it's a pretty extensive list: simple and intuitive; frictionless; engaging and interactive; able to solve one pressing money matter (or better, several at once); personalised to their needs; designed to proactively help them get better at what they want to accomplish; and built around a consistent omnichannel experience.
A report assessing what type of online services people are comfortable with found that 46% of participants would happily use an AI-driven personalised financial advice solution. 
Talk about intuitive and personalised.
The connected consumer isn't just an individual, it's businesses too
Small and medium-sized enterprises (aka SMEs) are increasingly using fintech services. 
Based on interviews with senior decision makers at 1,000 SMEs in five countries, 56% of SMEs use a banking and payments fintech service, 46% using a fintech service and 89% are willing to share data with fintech companies.
And if an employee is used to a seamless payment experience with their personal finances, but that experience doesn't carry over into their job, they'll probably feel like their company is failing and falling behind.
Seems silly to frustrate your people and make them feel undervalued because your processes are outdated, right?
What does this mean for fintech? 
A fintech's success isn't dependent solely on investment money and the product anymore, but includes customer sentiment and engagement. 
Performing well in these areas is no longer a nice-to-have, but a must-to-compete. 
That's why we continuously work with our customers to understand what they really need and really want. 
Our Pleo Insights team digs deep to find out more about things like payment experiences, security concerns and overall satisfaction with our services.  
From one survey, we discovered that invoices account for more than half of all spending for most companies and that 90% of our users think that it would be valuable to use one tool to manage bills and expenses. 
Good thing there's Bills 😉. 
With the rise of the connected consumer, who is empowered, knowledgeable and has high expectations of companies they choose to do business with, getting this kind of data and building this type of relationship with customers is vital. 
Because to sum it up nicely – the customer experience is the new competitive battleground.
---
Interested in more fintech trends? Make sure to download our eBook 10 Trends Shaping The Future Of Fintech 🚀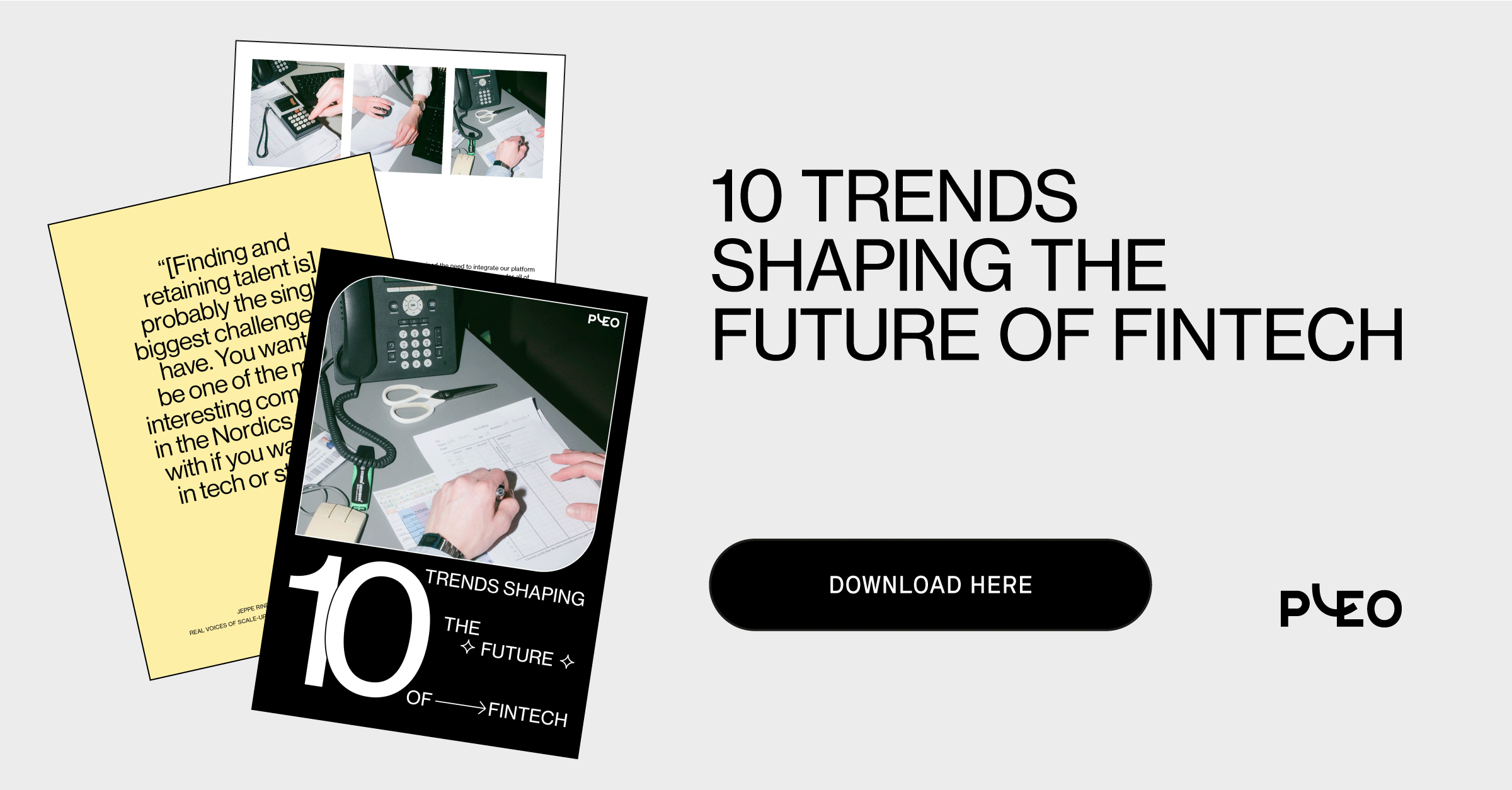 You might enjoy...
Beyond, our Europe-wide finance event, feels like a lifetime ago now! But some trends that were unearthed during the panel sessions have stu...

---

Graham Dyer, Director at AAB Group, explains how the firm helps clients pick the right tools to transform their processes.

---

Find out which technologies your finance team should be championing to make the most of your company's money.

---