Why the EU fintech scene is absolutely bananas right now
In case you missed it, we just raised $150 million – the largest Series C round for any Danish-headquarted business ever. 
That means we're the most mythical of things: a unicorn. 
Yes. A unicorn. 
But we're not the only ones hitting the headlines and becoming mythical creatures.  
The same week we announced our raise, more than €566 million was raised across 16 deals for fintechs throughout Europe. From neobanks to payment solutions to tax reporting software to an app for social trading. 
Kudos to our peers Wise, Bunq and Younited Credit as well as our fellow Danish fintech, Lunar, for shaking up the status quo for both business and personal finance in this past July too.  
But, that was a month ago. Since publishing this, there has been more EU fintech success stories – lot's more. 
Just take a look at Rapyd's $300 million Series E raise in the UK and Bitpanda's $263 million Series C in Austria from earlier this month. They're really coming along like busses!
A record-breaking year – already! 
Fintech is Europe's largest investment category and has received more than €30 billion of venture capital investment since 2014. 
And there are no signs of slowing down – barely halfway through 2021, and Europe has already broken the annual record for investment into fintechs. Amounting to €10.4billion, trumping the €9.3billion raised across the whole of 2019. 
Absolutely bananas!
"Fintech in Europe is promising, dynamic, fast-paced, and becoming a part of our everyday lives like never before," says our co-Founder and CEO, Jeppe Rindom. "If you compare it to the value of the whole banking industry, it's still small...but the newish players that put customer centricity first and technological advances at a close second will win the whole industry in the long run. With the competition as fierce as it is, our hard work and growth so far – amidst a global pandemic – proves that we're really onto something here."
So, what does it all mean? 
The combination of the rapid rate of innovation from the technology sector with the enormous scale and liquidity of the financial sector has got many excited.   
Big investments allude to big changes. Here at Pleo, we think the rise in interest in companies like us can be boiled down to four truths:
1) Fintechs are digital at the very core 
2) New consumer habits require big change
3) Increase in regulation keep us all in check
4) Hiring great talent keeps getting harder
Let's unpack them. 
Fintechs are digital at the very core   
Covid accelerated certain aspects of fintech offerings, but fintechs have been digitising and automatising finances from the very beginning. Not to mention having complete control over the quality of the features, direct communications with customers and flexibility to improvements where needed. 
This makes fintechs already two (or three) steps ahead of traditional banks and other financial services – and prepped to come out of the pandemic as changemakers. 
Tech – it's in the name! The Pleo card and app were meant to go hand-in-hand from the very beginning. Not an additional feature that was built once consumers started to notice that there are better ways to handle their money out there…
New consumer habits 
The digital transformation of financial services was already in the works before the pandemic, but when social distancing guidelines meant consumers weren't able to visit their local bank – well, people started to realise how seamless taking finances totally digital can be. 
This extended to businesses too. 
If an employee is used to an easy payment experience with their personal finances, but that experience doesn't carry over into their work, they'll probably feel like their company is falling behind. 
Ensuring your people have the right tools and processes to get their job done is only becoming more and more crucial for the future of work.
"The future of work empowers employees with the tools they need to be effective, productive, and successful", says Keri Gohman, Partner at Bain Capital Ventures, "Pleo understands this critical shift for modern companies toward employee centricity—providing workers with a fun-to-use spend management app that automatically tracks their corporate spending and generates expense reports, paired with the powerful tools businesses need to create full visibility and management of every penny spent."
And investors are seeing that consumers and companies are rapidly adapting to the digitisation of finance, and that these new habits are gonna stick.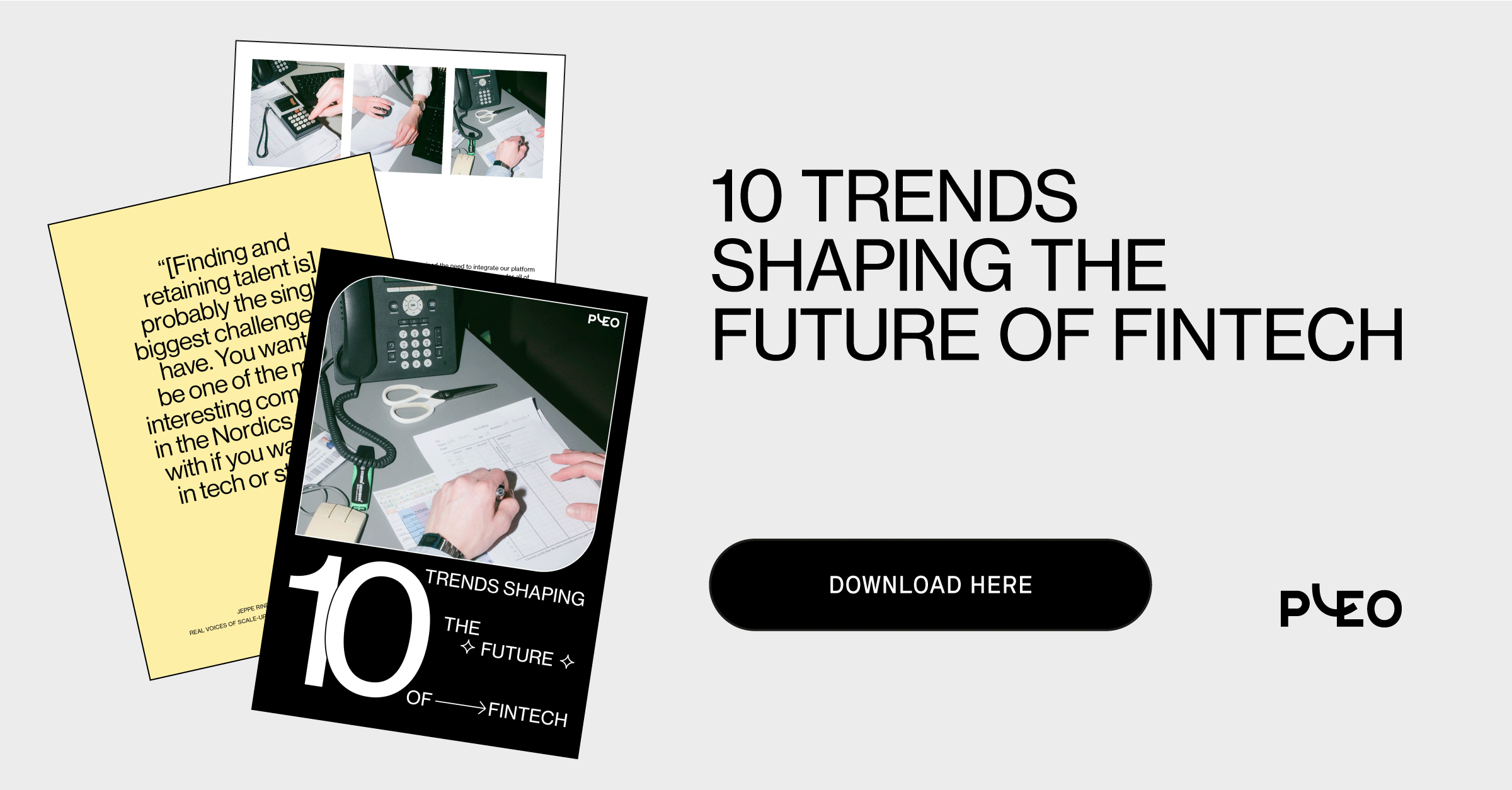 Increase in regulation
Governments and central banks are prepping for a growth that could rival the "Big Bang" that followed Britain's deregulation of financial markets in 1984. Regulators and legislators everywhere are hurrying to establish tax incentives, accelerator programmes and funding opportunities for fintech startups.  
The PSD2 in the EU is a direct result of this anticipation – making consumers no longer dependent on their banks to provide apps to digitally manage their money. With the PSD2, they can choose to share their financial records in order to do all their online banking with a fintech company, like Revolut. 
Open banking opportunities like this increase competition and innovation, as well as enforce the focus on security, for all financial services. 
These changes are causing perhaps the biggest shift of all – fintech is no longer (if it ever was) a novelty. Once the disrupters of finance, fintechs are wrapping traditional banking in intelligence and seem to be becoming a part of the furniture.
But, it's about talent too 
Fintech is Europe's largest investment category but a business with a ton of cash to work with still needs talented employees to carry out its ambitions – something we're planning on using a significant amount of our Series C towards. 
Based on the new features that are continuously being developed and launched by EU fintechs, it's clear that this continent is a hotbed of talent. 
"Finding and retaining talent is probably the most important challenge we have", says our co-Founder and CEO, Jeppe Rindom, "You want to be one of the more interesting companies...to work with if you want to be in tech or startups." 
And yet again, fintechs are giving traditional players a run for their money. 
Many traditional firms are hierarchical, risk-averse and lacking creativity. Quite a contrast to the fast-paced, innovative and collaborative atmosphere of fintech start-ups and scale-ups. 
And coming full circle  – how can traditional banks improve their customer experience when they haven't fixed their employee experience first? 
The future of EU fintech
There's no denying that the tech sector is booming across the continent, with fintechs being founded anywhere from Rome to Amsterdam to Copenhagen (wink, wink). 
And it appears that consumers have a healthy appetite for it with the use of fintech services growing significantly over the recent years. In the UK, fintech adoption rates have shot up from 14% in 2015 to 71% in 2019. 
As the European Commission continues to add to its regulatory leadership, the continent's market will become even more attractive to entrepreneurs, investors and top talent, with market-penned insurgents dwindling. 
Take Pleo – HQ'd in Copenhagen but with offices in London, Stockholm, Berlin and Madrid (for now). Having teams throughout the continent allows us to better adapt our core product to each market – from accounting integrations to specific features to compliance.
This type of interconnectivity and way of working, means that Europe's fintechs have the ability to become international and innovate quickly. Allowing for ample opportunity. 
Better stay on your toes, Silicon Valley, the Unicorns are coming!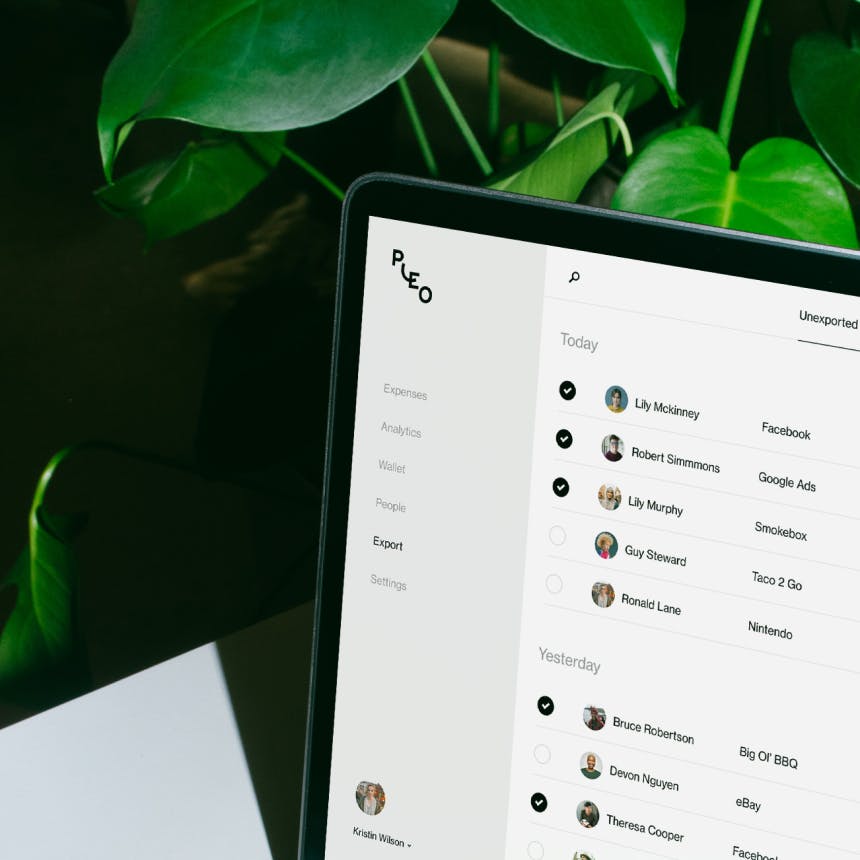 Expense reports? In the 21st century? No thanks!
Step into the future with Pleo. Smarter spending for forward-thinking teams.
Book a demo
Powered in the UK by B4B partnership, available soon
You might enjoy...
Beyond, our Europe-wide finance event, feels like a lifetime ago now! But some trends that were unearthed during the panel sessions have stu...

---

We're always working hard to build genuinely useful features, and we see these five as key to helping our customers optimise their spend pro...

---

Graham Dyer, Director at AAB Group, explains how the firm helps clients pick the right tools to transform their processes.

---