Everything your business needs to know about invoice management
We're living in an era of transformation for so many industries, but some things feel as if they never change.
Take receiving and paying invoices.
In a recent survey of hundreds of finance admins, we discovered that for the majority of companies, invoices account for more than 50% of all spending. And for half of all finance teams, bills account for 75% or more of all outgoings.
So the process behind them is clearly a crucial one.
What is an invoice?
An invoice is issued by a business to record a transaction with a customer – it details the goods or services provided, how much is owed, when the transaction took place and the terms of payment.
Normally, each invoice has a unique reference to help both parties track it properly.
Often, the words "bill" and "invoice" are used interchanagably. If you want to dive deep into the differences between the documents, this Investopedia article is a great starting place.
What is invoice management?
It could be goods, like office supplies or computer hardware. It could be services, like software subscriptions or agencies. Or it could be utilities: your internet, power or heating.
Some invoices you get and pay only once. Others arrive like clockwork every month. And if we're honest, some drop into your lap at the worst possible time, when it comes to cashflow.
How invoice management typically works
Let's imagine your IT manager orders 10 new laptops, to upgrade the hardware your team uses every day. Great for the people who get the new kit, but not so fun for everyone else involved in the payment and tracking of the bill.
The invoice will get emailed to the IT Manager, since they placed the order. (Some invoices are of course still issued in hard copy, but more and more have moved to digital-only.)
Now, most likely your IT manager isn't in a position to fork out a couple of thousand pounds, so instead they'll manually enter the vital data on your invoice processing system. That then winds its way to the finance team for their approval. Hopefully, there are no errors.
A decision has to be made on when to pay the invoice, since those large costs can have a major impact on company budgets.
Oh! And not forgetting the last key step – when the payment is made, the company accounts need to be updated to reflect the payment.
The problems with traditional invoice management
Speaking to finance admins makes something clear: Every stage of the bills process brings its own stresses.
You can break that down step-by-step.
18% of the finance professionals we spoke to said that receiving an invoice was the most inefficient part of the process – whether that's chasing suppliers to submit them in good time or just verifying it hasn't been paid already.
For others, approving the paperwork was where things ground to a halt. You've got to check for any errors or discrepancies of course and if you spot one, it might have to go back to the supplier for corrections. On top of that, often you spend a lot of time on documents that are… absolutely fine.
Think your invoices are fully digital? Not quite
The invoice process has seen some advances in the past two decades.
Software arrived to digitise the process but while it was undeniably a step forward, it still involves a lot of manual data entry.
When we asked finance admins to describe their current invoice handling process, "time consuming" and "manual data entry" were two of the top three choices.
"Convenient" was a much less popular option.
How automated invoice management works
The vital information goes in once, and from there we automate all of that tedious data entry.
With all of your invoices stored in one place, getting real-time oversight of what needs to be paid (and when) is possible. Armed with that, you'll be able to really improve your cashflow oversight.
And hey! No more late payment fees. Phew.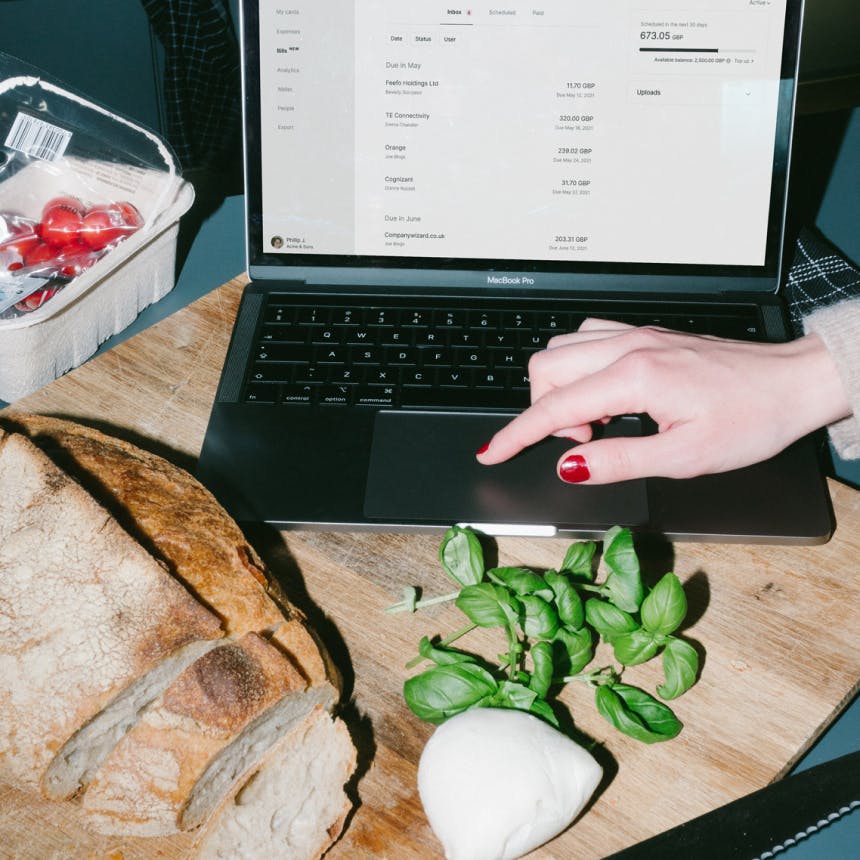 Easily pay and manage your invoices with Pleo
Save time and make your team happier with a smarter, simpler invoice management solution.
You might enjoy...
With three out of five UK businesses regularly waiting on late payments, we figured it's time to put invoices under the microscope.

---

It's not easy for accountants to manage their clients' incoming invoices – but Pleo Invoices takes that headache away.

---

It's time to get your accounts payable management and invoice automation under control.

---