Working from home: How to feel the love when your team is far away
It's almost been a year since offices turned off their screens and set up their home-office, on the kitchen table. Fast-forward to now, and well, we're still in the same boat.
While you may have gone back into the office for a little while last year, working from home has proven to really become the "new-normal."
Despite the countless Zoom calls and virtual team-building activities, you might still be feeling disconnected from your colleagues. Remote-working remains an issue that a lot of companies – and individuals – wrestle with getting "right".
It's a topic we're really invested in, with a team that has plenty of remote people and offers lots of flexibility for others.
And for us, working away from the office is not just about whether you'll be more productive on your couch or at your dinner table.
Plenty of people are going to be experimenting with the remote / office work balance throughout 2021, and beyond. 
For us, it's a key part of the future of work. And the past year has been an opportunity – in a worrying time – to hopefully learn some things.
Working from home vs working remotely
In the UK alone, there's been a phenomenal jump in the number of people working from home over the past decade – some research puts it as high as a 74% increase.
Technology is a huge reason for this, as is the greater focus on maintaining a healthy work-life balance.
The WFH contingent is growing, but plenty of people are finding other interesting places to get things done.
It could be a sales team that's on the road or the CFO checking accounts from an airport in Seychelles. Embracing the idea of remote working means accepting that variety and trusting your team to find the best way to work.
The fast pace of developments with coronavirus make that even more advisable. People will continue to improvise – a good business will support that.
When remote working goes right
For a lot of businesses, the current situation presents an obvious case for teams working from home. It's a public health consideration.
Not to mention that it's the right thing to do for people with kids or relatives relying on them.
But if you're able to keep working through this period, you might spot some of the other rewards of remote life.
For so many people, being on their own opens up a type of work that's just not possible amid the chatty buzz of the office.
You can really get in the zone and engage deeply on a project or a topic, normally that big project that's sat on your to-do list for months.
Companies that make remote working a priority also reap the rewards. Employee retention rates can improve significantly in businesses that support it, studies have shown repeatedly. There's the productivity bump too.
But let's be honest, in some places, remote working doesn't go that smoothly.
When remote working goes wrong
It's not that long ago that the Financial Times published a brutal takedown of the whole concept of remote working.
The author, Jo Ellison, struggled to feel connected with colleagues – feeling like emojis were doing the heavy lifting when she communicated with her team.
"In my experience, working remotely means working three times as hard… while simultaneously having a nervous breakdown," wrote Ellison.
"I've been reduced to a monster… I hate myself, and I'm pretty sure everyone I work with hates me too."
Remote working definitely has its challenges.
"Monster" might be a bit harsh… but being part of a remote team definitely has its challenges.
A major international study of remote working found that Ellison isn't alone in encountering isolation when working from home.
Just because your colleagues might occasionally pinch the last of the oat milk or play very bad music, doesn't mean you don't enjoy their company.
It's not just about banter though. Being in an office means informal information-sharing is happening all around you – you pick up on company insights that just aren't available on your couch.
How you can make remote working run smoothly
Talk about your fears
There are, naturally, some unique concerns that you might be feeling right now if you work from home. Your local health authorities are obviously the best place to go for help with that.
Remote working can lead to some other worries though. It disrupts the "normal" workplace environment and before long, you can start to develop new fears.
Things like: Can you make the case for a pay rise if your boss doesn't see (and hear) you working hard every day?
So why not establish a regular dialogue with your boss where tracking your productivity is a key focus? (Even if it is just you patting yourself on the back a little… )
Build up an internal network too – the more people in the company who know about the work you're doing, the more valued you'll likely feel.
Set your rules – and stick to them
This is where Jo Ellison's account of her remote working nightmare really hits a nerve for a lot of people.
It's easy for flexibility to translate into an inability to switch off. It's so tempting to fire off that last email rather than close the laptop for the day, especially when you're worried about being seen to be busy.
So here's some simple advice: set your rules and don't break them.
That means establishing with your team the hours in which you'll be working, the breaks you're going to take, how long they might have to wait to hear back from you.
(And hey, if flexible working for you means random hours or shift patterns, that's great. Just make sure your colleagues are in the loop.)
Breaking news isn't for everyone
For the past year, the news has been, well, pretty intense. 
And if you're finding some Covid-19 information people are sharing isn't helping or is distracting from work, let them (or a team leader) know.
Some people want to know all the details and breaking news alerts. For other people, it's not helping and that's OK.
Find tools that help you feel part of the team
Collaborative software that helps you work on projects with the rest of your team can be a game-changer.
Tools like Figma, Marvel and Abstract help our design whizzes to communicate.
Meanwhile, on the content team, we use Notion and even things as simple as Google Docs to keep our workflow streamlined.
Communicate… about communication
Don't be afraid to over-explain things if you're working remotely.
Video calls are becoming central to how a lot of companies work, but you'll still find yourself falling back on text.
Without visual clues, it can be more difficult to identify if a colleague has totally understood the message you're trying to convey.
Don't be afraid to ask them if they've got it – without being patronising, naturally.
And anticipate it working the other way too: check in with colleagues that you've fully processed what they're asking of you.
But whatever else you do, don't just leave it to emojis to do the heavy lifting. 🙂
And hey, look after yourself too.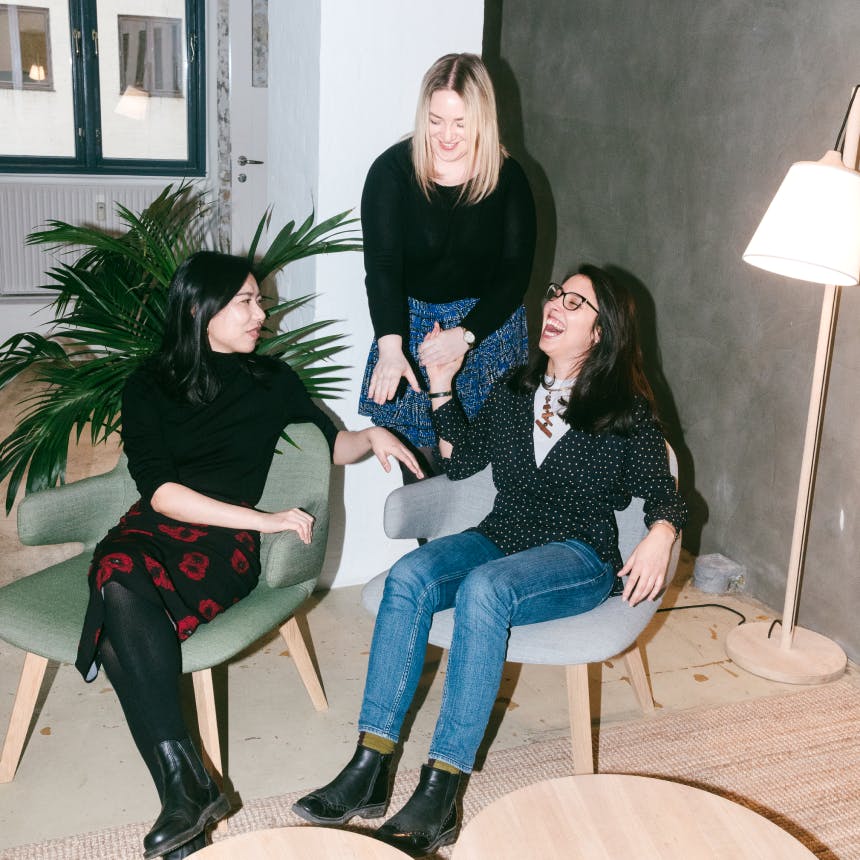 Want to know more about working at Pleo?
Learn more about how we hire, and the magical teams that make Pleo what it is today.
Take a peek under the covers
You might enjoy...
We caught up with Melissa Romo author of 'Your Resource is Human' to learn about the five unspoken emotions of remote work and what makes a...

---

The adoption of remote work has been gaining pace after the last few years, with flexible working now the norm for a lot of businesses.

---

Here's how automating your expense management can give you full oversight of your team spending, no matter where everyone is.

---